Microbiology Aspect Of Spaceflight Safety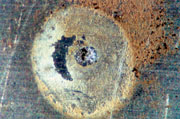 Microbes and fungi are unknown record holders in spaceflight. Natalya Novikova of IMBP told our correspondent Mariya Pobedinskaya on the microbiological research conducted on piloted orbital stations since Salyut 6.


Better luck... this time!
In a week after sowing seeds in Russian greenhouse Lada onboard ISS, Valeriy Korzun and Sergey Treshchov took 10 plants of 22 and ate them, proving full success of the first on-orbit test of this experimental payload.